Please Note: These guides assume you use Yamo as your VoIP solutions expert when creating tickets. Yamo provides low-cost and powerful phone systems for businesses of all sizes. If you are not using Yamo as your VoIP provider you can reach out to us here and have a chat.
The 3CX system allows you to set up your own unique speed dial keys. Commonly referred to as BLF keys. These allow you to have one-touch buttons that can do one of many options, such as:
Connecting you to another team member in your organisation
Logging your extension into or out of a queue
Custom speed dial. This allows you to enter pre-programmed feature codes, or even external phone numbers
Change status
Load up your preferred Setting up your 3CX Extension guide
BLF keys (Busy Lamp Field Keys) are the keys on your phone that show if another user is available, busy, or on the phone. These can also allow for quick speed dials to these extensions.
Through the 3CX WebClient, you are able to update the keys on your specific handsets and softphones. To do this you would need to follow the below steps:
Log into the WebClient, the login details are provided in your Welcome Email.
From there click on Settings on the left-hand side, then click on BLF Settings
Once you are in this menu you can update all your BLF keys and if your phone allows, you can add more BLF's.
As shown in the below screenshot, you do not need to click save and these are updated as soon as you update them.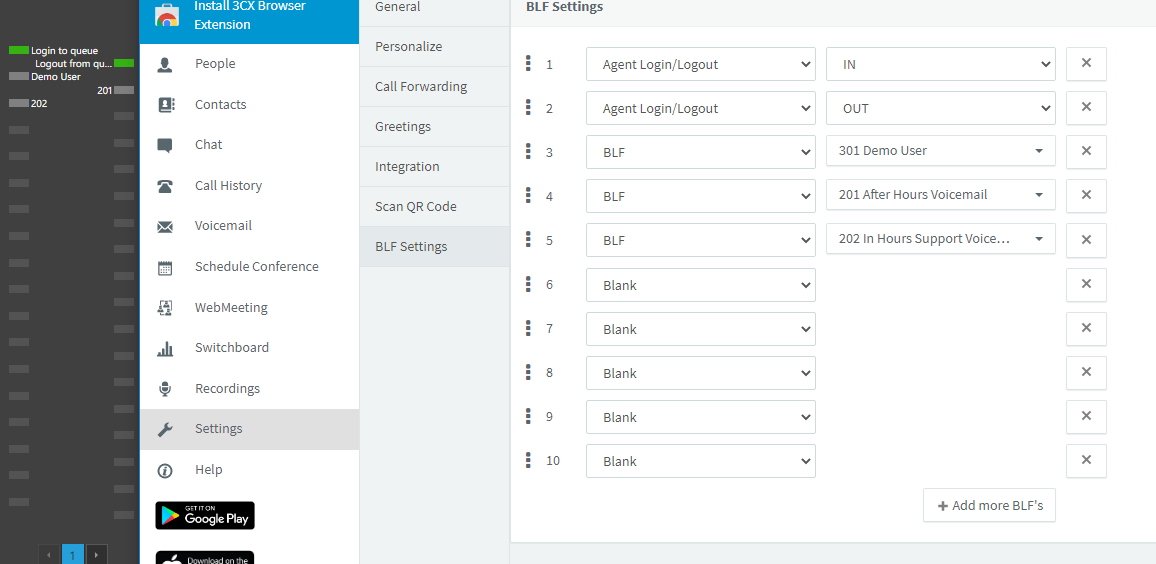 Additional Assistance
If the above steps did not help in resolving your issue, Yamo customers can click here to raise a case with us.
If you are not a Yamo customer and would like to have a chat to see how your business can benefit from expert support and advice like this, click here to book an obligation-free consultation and quote where we can discuss your business needs with one of our experts.
If there is anything you feel that we can add to improve this article please let us know in the comments below.