Please Note: This guide is for Yamo customers only. Yealink phones will not work without a phone system. If you do not have a phone system, or are having problems with your existing provider contact us today.
Problem
Your Yealink device is showing "No Service" on your LCD screen preventing you from being able to access your account.
Troubleshooting Steps
There could be a few different reasons for this issue. We have listed the most common issues that we have found below in their own individual sections.
Reboot the Device
The first troubleshooting step we recommend is to reboot the device. The most common methods to reboot are listed below:
Physical Reboot
Turn the phone over and unplug the power cable for between 10 and 20 seconds.

Plug the cable back in and wait for the device to reboot.
Please note: If you do not see a power cable, this means this device is using PoE (Power over Ethernet) if this is the case, unplug the ethernet cable for between 10 and 20 seconds and then plug it back in, waiting for the device to finish booting up.
Softkey Reboot
Locate, press and hold the X (or cancel) key until you see a prompt on the screen. (For the Yealink T57W this is the * key)

Press the "Ok" button to confirm the reboot of the device.


Wait for the device to reboot and see if this resolves the issue.
Check Cables
Check and ensure that the Ethernet cable is plugged into the correct port. There are two ports that an Ethernet cable can plug into, please ensure this is the one marked "Internet" as shown below.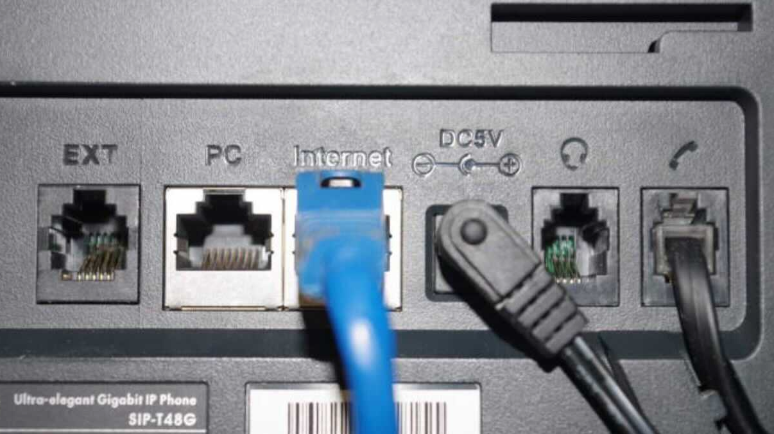 We would also suggest checking and ensuring that the cables are not damaged at all. If the cable appears damaged try swapping this out with another cable that looks to be in good order. A damaged Ethernet cable can cause the phone to cease functioning.
As you can see in the above image there is a port for your computer labelled PC. This is a port that connects to your computer so that your phone and computer can share the same router port. If you are using this port, please ensure that the PC port is connected to the PC and the Internet port is connected to your router.
Your phone is not registered
The phone you are using may not be configured correctly for use. The steps required here can differ depending on the system you are using.
If you are a Yamo customer using 3CX, please follow this guide
If you are not using 3CX, please contact us to allow us to help set you back up. In order for us to be able to do this, we will require remote access through a VPN or RDP session. Please speak to your network admin or IT team to arrange this for us.
SIP ALG is enabled on your router
SIP ALG is a setting found in many commercial and residential firewalls, routers, or modems. This is a tool that inspects SIP messages used in VoIP solutions and transforms these messages. This can cause a number of issues when using VoIP phones. We have a guide that outlines how to disable SIP ALG on a number of devices here.
Additional Assistance
If the above steps did not help in resolving your issue, Yamo customers can click here to raise a case with us.
If you are not a Yamo customer and would like to have a chat to see how your business can benefit from expert support and advice like this, click here to book an obligation-free consultation and quote where we can discuss your business needs with one of our experts.
If there is anything you feel that we can add to improve this article please let us know in the comments below.