Introduction
Welcome to your new 3CX system with Yamo. As part of the initial set-up, we have emailed all users with their welcome email. If you or anyone haven't received this, please reach out to our support team and we can send you an updated copy. Once you have a copy of your welcome email, please follow the below steps to set up your extension depending on your preference.
Logging into your extension
Your welcome email should look similar to the example below. This will include the following information to get you started:
The PBX URL (You need to use the "Outside the office" link, this will be used in both a Work from Home and Work in Office situation)
Your extension number
Your extension voicemail PIN
Your Web Client password

Now that you have this information, we will go over the different methods for logging in.
Web Client
You can use the link in your welcome email to connect to the WebClient, the login details will be your extension and password. In the above example, it would be 104 and the password will be the length of text beginning with Zx. This is a browser tab that allows you to make and receive calls, along with seeing your team at a glance as shown below.

In order to use the WebClient, you must be using either Google Chrome or Firefox using either a Mac OS or Windows system. While other browsers or operating systems may work, we will be unable to provide end-to-end support if you are using them.
3CX Desktop App
The 3CX desktop app has a lot of similarities with the WebClient. This also has the added benefit of being a separate application so it isn't reliant on you having your browser page open, this also opens at login so you don't have to worry about logging in. I've outlined the steps below to get this up and running.
Installing the app
Once you have logged into the WebClient, please click on the windows icon in the top-left hand side.
A separate window will pop up in the tab allowing you to download the 3CX Desktop App, this page also has the provisioning link for the application.
Once you have downloaded the app, it should appear in the bottom left of your browser
Once this has finished downloading clicking the file will run and install the 3CX Desktop App
Once you have finished installing the desktop app it should pop up providing the next steps. For this, please refer back to the 3CX internet tab and click provision (step 3)

Mobile Apps
3CX is also available on mobile apps such as iPhone and Android. Your welcome email will include a QR code that will allow you to provision your extension on your device.
Getting Setup
Your welcome email includes a link to the iOS App Store and the Google Play Store that allows you to download the app directly from there. The app should look something like the below screenshot (We have used iOS in this example).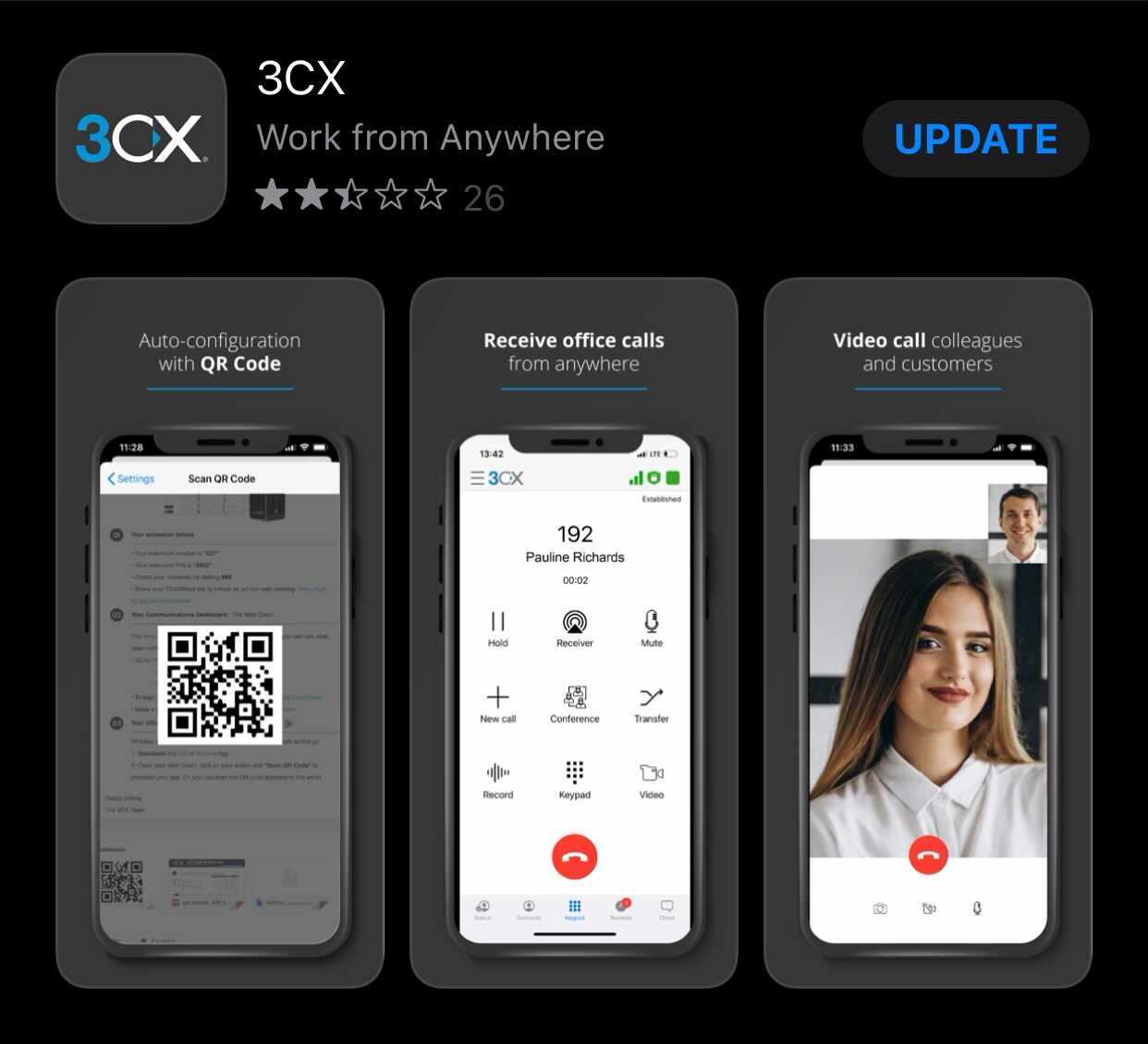 Once you have downloaded this follow the steps below to register your extension:
Open the app and tap the settings button. This should be 3 lines, clicking this should open the settings screen.
From there, click on Scan QR Code this will switch on your camera allowing you to take in the information from the QR Code in your welcome email.
On a separate device, such as your computer, open up the welcome email. Alternatively, you can also view this on the WebClient by clicking "Settings -> Scan QR Code". If you do not know how to access the WebClient, please see this article.


Point your phone camera a the QR code on the screen, this will then register your extension to your mobile phone application and you should be good to go!
Troubleshooting
WebClient
If there are any general issues with the web client, please check the following steps first.
Ensure that you are using a supported browser and a supported platform, as per the Prerequisites heading above.
Update your web browser to the latest version, on Google Chrome this can be done by accessing This link and on Firefox this can be done by following these steps.
Clear your browser cache and cookies. For Firefox, instructions can be found here and for Google Chrome, these can be found here.
3CX Desktop App
The most common areas to check in the 3CX desktop application app relate to sound, this is managed through the audio devices section.
Click on the 3 dots to open your settings menu located on the left-hand side and then click on "Audio Options"
Once in this menu, you can see and adjust the microphone and speaker settings. For the best experience, these settings should be set to the same device. Different devices are known to have some issues such as the inability to hear when using split devices.
If there are further issues, please reach out to our staff through a support ticket.